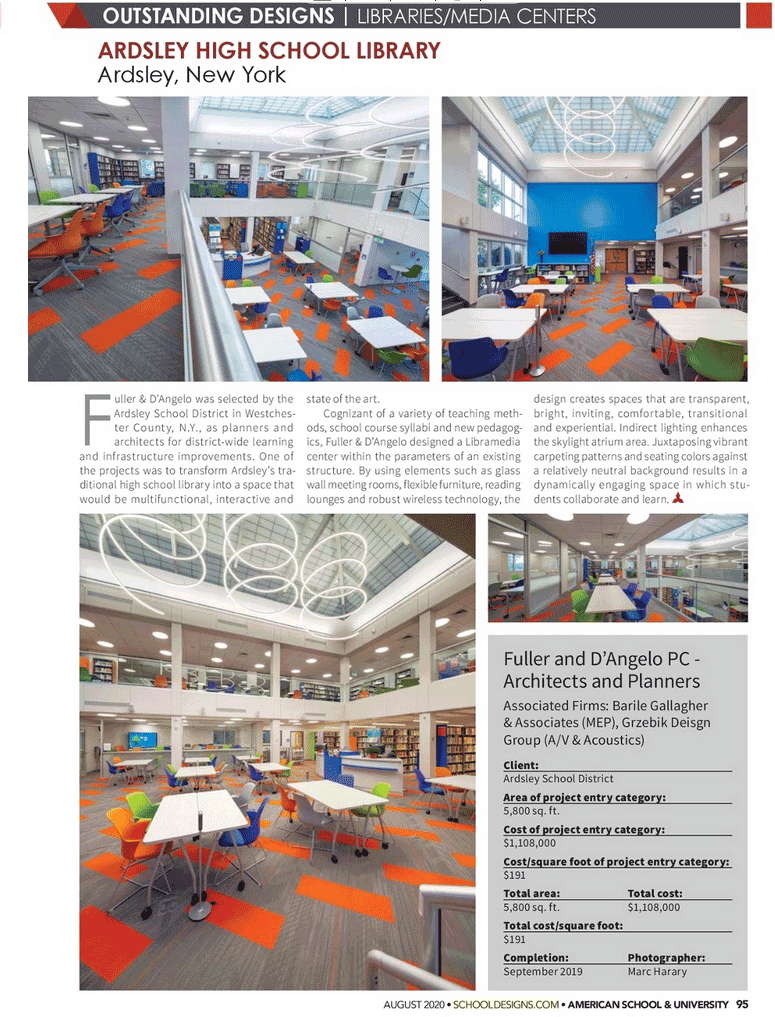 American School & University | Outstanding Designs | Libraries/Media Centers
Fuller & D'Angelo was selected by the Ardsley School District in Westchester County, N.Y., as planners and architects for district-wide learning and infrastructure improvements. One of the projects was to transform Ardsley's traditional high school library into a space that would be multifunctional, interactive and state of the art.
Cognizant of a variety of teaching methods, school course syllabi and new pedagogics, Fuller & D'Angelo designed a Libramedia center within the parameters of an existing structure. By using elements such as glass wall meeting rooms, flexible furniture, reading lounges and robust wireless technology, the design creates spaces that are transparent, bright, inviting, comfortable, transitional and experiential. Indirect lighting enhances the skylight atrium area. Juxtaposing vibrant carpeting patterns and seating colors against a relatively neutral background results in a dynamically engaging space in which students collaborate and learn.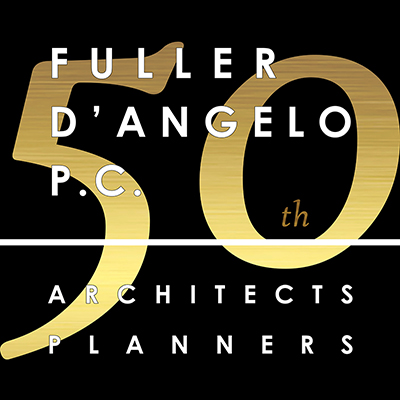 F&D - 50 Years of Excellence
Fuller & D'Angelo PC, Architects & Planners Celebrates Half a Century of Excellence!
Having met on a project building the Greenburg Library, Nicholas D'Angelo and Joseph Fuller, Sr. soon after formed the architecture firm that has been serving New York and Connecticut since 1971.  Eventually joined by their sons, Joseph Fuller, Jr. and John D'Angelo, the firm has become known for their work on educational facilities.  They designed the Academy of Information Technology and Engineering (AITE) in Stamford, additions to Ardsley High School, to Danbury High School, to the historic Port Chester High School and to the award-winning Staples High School in Westport, just to name a few.  Their portfolio also includes numerous hospitality projects, such as the first Crowne Plaza Hotel in White Plains and civil projects, such as the Old Town Hall in Stamford. 
But it is more than just a family affair.  Over these past 50 years, the Elmsford based firm has grown to include architects and designers from all over the globe – Persia, Japan, Romania, Bulgaria, Burma.  With internationally known and locally respected professionals, Fuller & D'Angelo PC has managed to develop client relationships with schools lasting decades, impacting lives of millions of children.  These partnerships promote designs that are truly reflective of their clients' identity and ultimately exceed the needs and expectations of the client. 
The late Joseph Fuller, Sr. once wrote "Throughout history, architecture has been the mirror of each civilization, reflecting the philosophy, character and progress of the human race."
When asked what makes a company successful, partner John D'Angelo attributed it to "a company's ability to adapt to the constantly evolving field of architecture.  The demands of developing trends must be met as well as the needs of the clients."
"As we look to the next 50 years," Mr. D'Angelo went on to say, "we must rise to the new challenges being made of us as architects.  The demand for sustainable buildings, smart infrastructure and the need for new kinds of learning and working environments are just some examples of how we will need to design for the future while we draw on our experience of the past."
FULLER AND D'ANGELO P.C.     ARCHITECTS AND PLANNERS     45 KNOLLWOOD ROAD SUITE 401 ELMSFORD NY 10523     TEL: 914-592-4444
Created by WM  |  FD  |  2019©